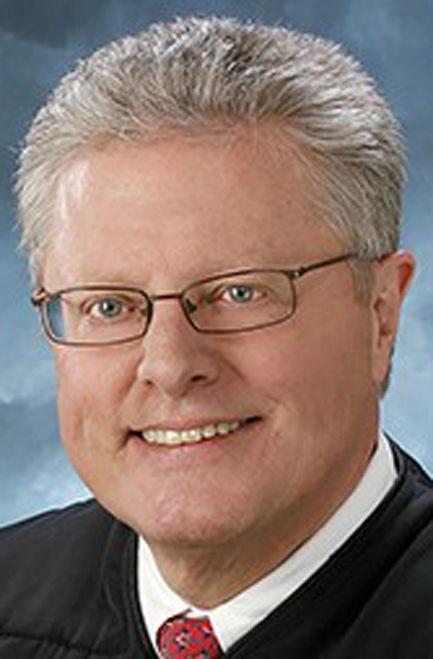 La PORTE — Jeffrey L. Thorne has announced he is seeking re-election this year as judge of La Porte Superior Court 3.
Thorne was first elected Superior Court 3 judge in November 2014, assumed the bench on Jan. 1, 2015, and has served in that capacity for the past five years.
Superior Court 3 is a high-volume court which handles misdemeanor charges including theft, battery, operating while intoxicated and other crimes, along with the disposition of approximately 3,500 infractions annually, the judge said.
The court also hears a high-volume of civil matters, including small claims, landlord/tenant disputes and various other forms of civil cases including collections, business and contract issues.
At any given time, there are approximately 7,500 cases active, with at least 5,000 cases disposed of annually, the judge said.
In his capacity as judge of the Superior Court 3, Thorne has also supervised and implemented the La Porte County Veterans Treatment Court, with approximately a dozen veteran graduates who have turned their lives around, he said.
Additionally, Thorne supervises the La Porte County Alcohol and Drug Services Program and oversaw the retirement of its longtime director and appointment of her successor.
Upon assuming the bench in 2015, Thorne assisted with the design of the new Superior Court 3 courtroom, conference room, jury room and staff offices when they relocated from the lower level of the La Porte County Annex Building to the second floor of the La Porte County Courthouse.
Construction and relocation of the court was completed in April 2016.
Thorne has also instituted procedural changes and modifications to help streamline the civil case load and, in particular, the landlord/tenant process providing for more efficient, prompt and orderly disposition of landlord/tenant issues, he said.
He also was actively involved as a leader in the development of the La Porte County Criminal Pre-Trial Services Program, which went into effect Jan. 1, 2020.
"This process, which was mandated by the Indiana Supreme Court, began during the summer of 2018 and required the coordination of representatives from all law enforcement agencies in the county, as well as the Prosecutor's Office, La Porte County Jail, Public Defender's Office, Probation Department and Clerk's Office, along with a number of independent agencies throughout the county," Thorne said.
He has also served on the Indiana Supreme Court's Special Courts Committee and is a graduate of the Indiana Judicial College. He is a member of the Indiana Judges Association, as well as the American Judges Association.
Prior to his election to the bench, Thorne practiced law in La Porte County for more than 35 years, including serving as attorney to the Long Beach Town Council for more than 30 years and the Michigan City Aviation Commission for more than 10 years.
Thorne has been admitted to practice law before the U.S. Supreme Court, the U.S. Seventh Circuit Court of Appeals, all Federal District Courts in Indiana, and all Indiana Trial and Appellate Courts.
He is a former president of the Michigan City Bar Association and a former member of the Board of Governors of the La Porte County Bar Association.
While engaged in the practice of law, he served on a number of boards including the La Porte County Youth Services Bureau, Michigan City Red Cross and Michigan City Junior Achievement.
He presently serves as a member of the Board of Directors of the Michigan City Historical Society, and was formerly a 12-year member and past president of the Michigan City Chamber of Commerce Board of Directors.
Asked about his first term on the bench, Thorne said, "The La Porte Superior Court 3 is a high-volume court which handles a wide variety of cases both civil and criminal, including a fair number of cases in which either one or both parties are not represented by attorneys.
"My many years of practicing law and representing clients has been invaluable to me in helping people navigate the justice system when they can not afford to hire an attorney."
He said the job "requires patience, compassion, a broad knowledge of the law and the ability to make the difficult decisions that need to be made."
Thorne said it has "been my distinct honor and privilege to serve the citizens of La Porte County as the Judge of the La Porte Superior Court 3 and I hope to continue that service for another six years."
Thorne grew up in Michigan City, and graduated from Elston High School, Indiana University and the Valparaiso University School of Law. He is married with two adult daughters.